About Ha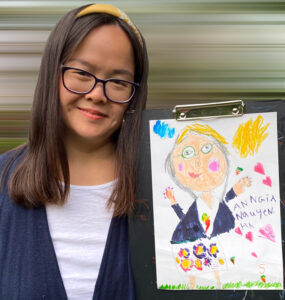 I am a visual artist, an art teacher and a Bachelor of Art graduated from the Painting Faculty of The Vietnam Fine Arts University who love working with kids therefore I spent a lot of time teaching and being around them. I have 15 years experience working with children from various backgrounds including those who have special needs. Working as a sole Art teacher at O'Hana school (Hanoi, Vietnam) and as part-time teacher for several others, I often helped organizing Art events and workshops for children. This task helped me build up important soft skills working with young people and understand their needs.
After moving to UK to settle with my husband, in early 2011, I have enrolled myself on the CACHE award in Childcare study at Beckton Globe training centre and had successfully completed the course. Following that, I have joined London College of Contemporary Arts to study Computer Graphics and Multimedia course which awards Edexcel Higher National Diploma (HND). In this project courework, I designed and developed few interactive educational games for kids to learn science and English. I had various experiences organising art events and workshops for preschool, elementary and secondary childrens around the world. With immense interest and passion in art education combined with working experiences, I strongly believe that I could promote meaningful art activities for diverse communities.
My full CV with achieved qualifications & work experiences can be found here.